The

Heads I Win, Tails You Lose Audiobook

Reveals A New Method Of Managing Your Money Outside Of Wall Street.
Discover the financial secrets used by the wealthy to navigate the rapidly changing economy and reach financial freedom.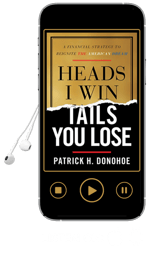 Enter your information below to receive your free audiobook download:
Your audiobook download also includes a complimentary consultation with a Wealth Strategist. In the next few days, a member from our team will be reaching out to discuss your unique financial goals. They'll get you set up for your free consultation to discuss how you can buffer against market volatility with a Wealth Maximization Account™ and keep your retirement goals on track.
In this free audiobook, author and Paradigm Life CEO Patrick Donohoe teaches you a new method of managing your money outside of Wall Street.
Conventional financial mindsets are failing too many people. We save, invest, and borrow the way Wall Street, banks, and the financial media tell us, but we are left unprepared for market losses, financial hardships, and retirement. The rules of money and financial well-being have changed, and those who follow them are achieving staggering results.

In Heads I Win, Tails You Lose, CEO and financial strategist Patrick Donohoe shows you how to embrace a new way of thinking, sharing with you financial secrets used by the wealthy to navigate the rapidly changing economy as well as financial options to help you win no matter what and reach the true American Dream: financial freedom.

Discover a new method of managing your money outside of Wall Street using private mutual insurance companies who are redefining themselves as the heroic steward of American savings to prosper a new generation of wealth-building tools and techniques. With this book, you will learn the financial strategies that typical advisors, typical financial planners, and the financial media don't dare give—advice that will empower you to take back your financial future, exit the rat race, and live a life you love.

Key Topics:
- Growing wealth outside Wall Street
- Improved returns with minimal risk
- Increased cash flow and liquidity
- Building generational wealth
- Creating a financial foundation to weather any market downturn

Download the audiobook FREE today! ($24.99 value)

Client Testimonials: Don't Just Take It From Us⏤See What Our Clients Say
At Paradigm Life, we know that millions of people follow out-of-date financial advice that prohibits the future they deserve. We come alongside clients to implement a personalized wealth strategy that empowers them to live a fulfilling life now, and ensure the future of their dreams.

Paradigm Life helps you create customized financial solutions proven to reduce risk, increase growth, minimize taxes, and hedge against market volatility.
We believe in a better financial system. One that makes life more predictable. Your financial goals are our goals, and our Wealth Strategists are by your side every step of the way.
Since 2007, CEO, author, and The Wealth Standard podcast host Patrick Donohoe and his team have helped thousands of people efficiently grow their wealth and protect against market volatility.
Take control of your financial future. Schedule a free consultation and build your custom wealth strategy today.
Copyright 2021 Paradigm Life
Privacy Policy | Terms of Service

This website is not a part of the Facebook website or Facebook Inc.
Additionally, this website is NOT endorsed by Facebook in any way. Facebook is a trademark of Facebook, Inc.